ALERTA! Estafa de puerta en puerta. Aprenda más aquí.
All about eBikes
Electric bikes, also called eBikes, assist riders using power provided by an integrated motor and battery. Compared to traditional bikes, eBikes provide faster and easier commutes, near-zero emissions, and an enjoyable ride.
When compared to traditional bikes, eBikes allow riders to travel longer distances in a shorter amount of time. The added range and electric-assisted pedaling can help replace car trips, ease commutes to work or school, and bridge the gap between public transit and home or your next destination. Replacing car trips using eBikes also positively impacts our communities through reduced vehicle pollution, less congestion on the roads, and better health for all.
California recognizes three classes of eBikes: Class 1, Class 2, and Class 3. The differences between these classes include whether power is supplied only when pedaling or is controlled by the throttle, as well as the top speed the motor assists the rider up to (20 MPH or 28 MPH). The differences are summarized in the table below.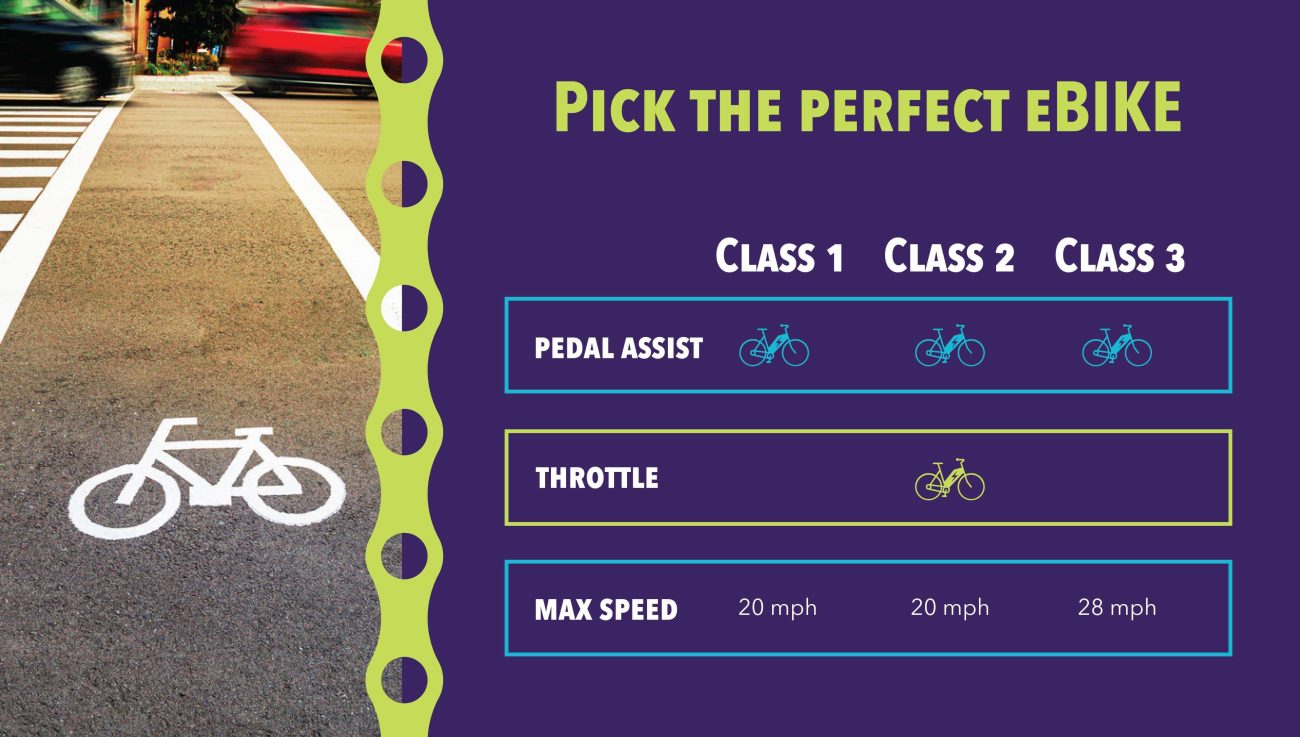 Several styles of eBikes are on the market, including cargo bikes, folding bikes, and even three-wheeled bikes. More affordable eBikes generally have a rear hub motor, while higher-end models often have mid-drive motors that are integrated into the bottom bracket (meaning it's between the pedals).
Many local transit agencies allow eBikes on board, including Sonoma County Transit, Mendocino Transit, Santa Rosa Transit, and SMART train.
Learn more about eBikes, buying considerations, charging tips, and how and where to ride them safely. Download our Electric Bike Rider's Guide by clicking the button below. Questions about eBikes? Visit your local retailer or email us at programs@sonomacleanpower.org.
Ready to ride?
Find a local ebike shop.
Awesome Bike Company
971 Golf Course Dr, Rohnert Park, CA 94928
(707) 321-7809
Awesome Bike Company
Big Bowl Bike Shop
58 East Washington Street, Petaluma, CA 94952
(707) 723-5035
Bigbowlbikeshop.com
BikePartners
512 Wilson St, Santa Rosa, CA 95401
(707) 595-0386
bikepartners.net
Breakaway Bikes
4235 Montgomery Dr, Santa Rosa, CA 95405|
(707) 586-3400
breakawaybikes.co

Dave's Bike Shop
163 E Gobbi St, Ukiah, CA 95482
(707) 462-3230
davesbikeshop.com

Factory Powersports
55 College Ave, Santa Rosa, CA 95407
(707) 545-1672
factorypowersports.com

Fort Bragg Cyclery
301 N Main St, Fort Bragg, CA 95437
(707) 964-3509
fortbraggcyclery.com

Mike's Bikes Petaluma
264 Petaluma Blvd North, Petaluma, CA 94952
(707) 776-0606
mikesbikes.com

Napa Valley Velo
145 Gasser Drive, Napa, CA 94559
(707) 927-5486
napavalleyvelo.com

Pedego Santa Rosa
751 5th St. Santa Rosa, CA 95404
(707) 540-0253
pedegoelectricbikes.com

St. Helena Cyclery
1156 Main St, St Helena, CA 94574
(707) 963-7736
sthelenacyclery.com

Sonoma Adventures
1254 Broadway, Sonoma, CA 95476
(707) 938-2080
sonomaadventures.com

Sports Basement Santa Rosa
1970 Santa Rosa Avenue, Santa Rosa, CA 95407
(707) 921-3147
shop.sportsbasement.com

Trek Bikes
512 Mendocino Ave, Santa Rosa, CA 95401
(707) 546-8735
trekbikes.com